I spent today reading the Origami Yoda books by Tom Angleberger. I "book-talked" these books to many kids this year, some of you read them and some of you didn't. The main reason for people not reading these books was that they didn't like Star Wars. First and foremost, this book is NOT about Star Wars! And it is not a book only for boys! There are many girl characters that play major parts in the story. The first book,
The Strange Case of Origami Yoda,
was a re-read for me. But it had been so long since I had read it that I really didn't remember anything about it. I was surprised at how much I enjoyed it!
Dwight is the creator of Origami Yoda. His friends ask him questions and Yoda gives them advice. Each book is a "Case File" - a bunch of evidence gathered by Tommy and illustrated by Kellen. The main question in Book One is, "Is Origami Yoda real?" Each chapter is written by a different student and tells of a time when Origami Yoda helped them solve a problem. Harvey is Origami Yoda's main enemy and spends all his time trying to prove that Yoda (and Dwight) is a fake.
It's really a book about kids who are adjusting to middle school and they use Origami Yoda and his mysterious powers to help them make tough decisions. Is Origami Yoda REALLY real? You'll have to read it and decide for yourself! And after you read this one, be sure to check out
Darth Paper Strikes Back
and
The Secret of the Fortune Wookiee
. Then, let me know what you think!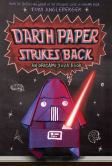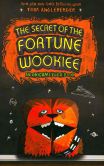 Be sure to comment and let me know what you are reading!